2 Adorable Rescue Pugs Help Kids Learn to Count by 2's
We have just launched a new project called Kids' Pet Club to inform and entertain pet-loving kids. Snorting snoring comedic duo Kilo the Pug and the adorable star of The Backseat Barkers, Fishstick the Pug host a series of videos including Dog Song Sing-Alongs and DIY Dogs. Our adorable rescue pugs help kids learn to count, care for pets, and make all sorts of crafts.
Pugs have such cute, funny, friendly faces with big heads, big anime eyes and big personalities, they make natural hosts.
Scientific Research and anecdotal evidence have shown that looking at cute dogs and puppies can help relax children and may also help with focus, processing and memory. We have seen first hand how dogs can make the lives of kids better through Reading, Service Dog and Therapy Dogs Programs.  Kilo the Pug certainly brings my daughter and I a lot of joy joy and makes us smile and relax. I'd love to Therapy Work with him in person but he is still too anxious and reactive with strangers and in new places- he would hate it. Through this video series, I can share his little face and help lots of kids without stressing him (he loves the camera as he gets paid in treats and hugs).
Dog Song Sing-Along Video Series
We have just released the first of the Dog Song Sing-Alongs  "Counting to 20 by 2's".
DIY Dogs
We have another series called DIY Dogs hosted by the Pugs including Crafts like making "DIY Treat Jars" and "DIY Duck Tape Bow Ties", as well as "Cooking with Kilo (and Fishstick)".
Penny P Pug
We will also be testing some Sing-Along and Read-Along Videos for the younger pre-school pet-lovers featuring our animated character Penny P Pug which I am very excited about too. Penny P is a whimsical, wonderful, impulsive little pug puppy full of energy and enthusiasm. Penny P can't sit still (except when she is asleep in a heap) and every day is an adventure. She has "things to see and things to do, things to smell and things to chew". She is easily distracted and frequently has to be reminded "Take a Paws and think things through, then you'll know just what to do".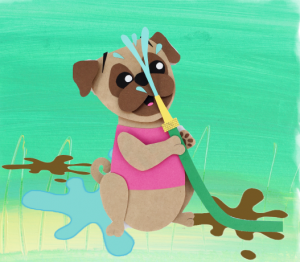 Do you have a Pug that makes you Smile? Tell us in the comments and please share the new videos with any kids you know.