Some Surprises that Come from Adopting this Dog Breed
You learn some amazing life lessons when you open your heart and home and adopt a pug. As the summer holidays end, and kids go back to school, many people are ready for a new routine and perhaps a new family member. Why not rescue a dog in need and save a life this year?
My rescue pug Kilo, from Homeward Bound Rescue,  has certainly changed my life for the better. We found each other in August two years ago and I couldn't image life without him now. However we have both had to adapt and have taught each other a lot.
My Rescue Pug Life Lessons:
1. Every Pug Has A Unique Personality
Just like people, animals have different personalities and needs. Certain breeds tend to have certain characteristics, but then within the breed, they can vary enormously because of nature and nurture.
Pugs are such a lovable, loving, funny breed but I do find them quirky. They do need a lot of attention, they like to be on the couch or your lap and they can tend to weight gain or get hot easily. I started out fostering because I have always had rescue dogs my whole life, but had never had a pug or other squishy face breed.
Read more about what to expect from a Pug Here.
Kilo does not appear to have been socialized well as a puppy so he is not a typical sociable pug with strangers or other dogs. Pets are not usually inherently "bad," but may have had a rough beginning in life that caused some behavioural issues. We are working on Kilo's and I have learned a lot about positive training and socialization.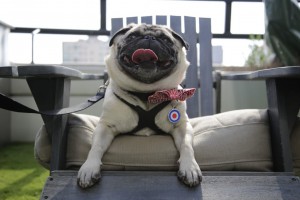 2. You'll Save Two Lives By Adopting A Rescue 
When you adopt a pug, not only are you probably saving its life, but you also give a chance to the one who will take its place in the rescue, shelter or foster home. Until every pet has a loving home, adopting is a great option.
3. Empathy, patience, and responsibility- Love Changes Everything
Caring for, training and showing a pet love can teach empathy, patience, and responsibility. The special love of a rescue can transform your life. Rescue dogs have had great success in programs with prisoners and youth, showing how life changing the love of a dog can be. Pugs can be a particularly loving and affectionate breed, breaking down emotional barriers. Nothing like pug hugs from Kilo when I walk in the door or cuddles if I am stressed. Plus he gets me up off the couch or away from my desk regularly to walk or play with him or do training sessions.
4. You Both May Learn to Trust and You Are Not Alone
Not only can pets give you unconditional love, but they often greatly improve your mental, emotional and physical state. By having a companion animal, especially a pug that you walk and cuddle and even talk to, you are never alone and are forced to get out and try new things. This can be very beneficial for those who may feel isolated.  With patience, training and lots of love, your rescue pug will learn to trust you and you will have a best friend by your side.. all the time.. even when you go to the bathroom. I call Kilo my velcro dog.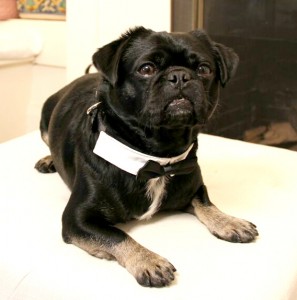 5.  Who Rescued Who?
Many former shelter pets and rescues become therapy or service animals or may become heroes, like search and rescue animals or PTSD Assistance Animals with K9s for Warriors. Pugs can make great therapy dogs reading with kids or visiting seniors. They can also alert to danger.
6. Stress Relief 
Scientific research shows that looking at and petting dogs can increase hormones that improve moods and reduce hormones associated with stress levels. So, learn to take a deep breath and adopt a pug! Patting Kilo's soft head and looking into his big eyes help me. Pugs have naturally slightly comedic exaggerated features which make many people smile. Kilo is VERY affectionate and also likes to do tricks and make me happy.
7.  Become Healthier
Having a daily routine that includes many walks is a great benefit of owning a dog. Your body will thank you for the extra exercise and daily adventures. Research in Australia showed that dog owners got more exercise than non-owners. I have learned a lot about diet, nutrition, and exercise looking after Kilo the Pug. It has made me more active and in tune with my own health.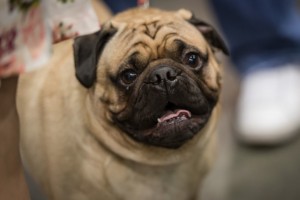 8. Live Life To The Fullest
The most important thing in life is to value it. Rescued pets are great for reminding us that a few of the best things in life we may take for granted, like the love of your family and a roof over your head, good food, health and maybe a cuddle.
9. The Power of Positive Training and Attitudes- Dogs and People Can Change
Many rescue dogs come from rough situations, but that doesn't define them. They don't hold grudges (though some may be fearful).
The best lesson you will learn is that with lots of love and positivity, anyone can change. We can all learn to forgive, to forget, to trust and let go of past pain.
Is your Dog A Rescue? Share Your Stories Below.