Christmas Party Photos of Pug at Pugalug's Pug Claus
This weekend was Pugalug Pug Rescues's annual Christmas party, Pug Claus, held at Purina PawsWay Toronto. It was a great event for pugs and pug lovers to gather, take photos with Santa and celebrate the holidays with their families and friends. We  saw our pal Fishstick, the star of the Backseat Barkers series looking very dapper in his Christmas Bowtie.
Such a fun way to raise funds for pugs in need. The raffle prizes were fantastic this year. They had 3 beautiful big gift baskets, a one night stay at the Westin Harbour Castle for and gift certificates too! Sadly, I did not win.
Kilo came along and sat with my husband enjoying cuddles and treats.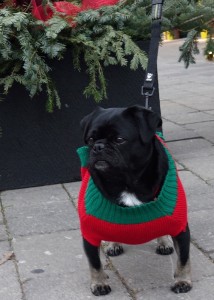 The event had awesome gifts to buy like Peachy Keen harnesses, bandanas and bow ties  our friend Igor's calendars, and new PugALug t-shirts- all available online.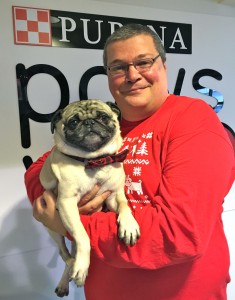 It was tons of fun meeting new pug lovers and of course playing with some many adorable pugs.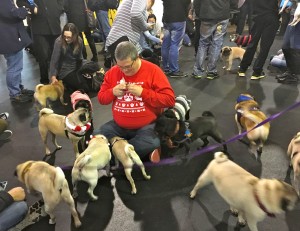 Tim was like a Pug Whisperer-  having a great time handing out treats to the pugs. He and Crystal also brought along Fishstick's 2 BFFs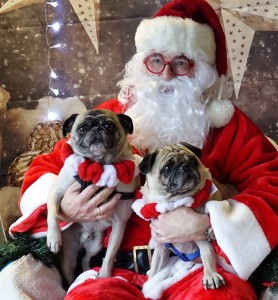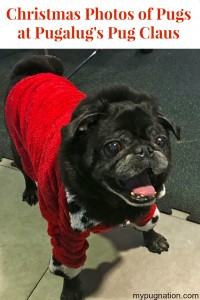 Check out our gallery for event photos and share yours with us online.
Have You Been To A Pug Christmas Party Before? Share your photos with us.