Adorable Photos of Pugs Having Fun at The Toronto Pug Grumble
Sunday was pretty nice weather, so  Kilo the Pug headed off to Trinity Bellwoods Park "Dog Bowl" for the monthly Toronto Pug Grumble for the first time (we popped by the Halloween event but it was at a store nearby). The event is hosted by handsome Instagram Celebrity Pug @HelmutthePug and his Mom. We were lucky enough to see them twice this week as Helmut was a model at the Strutt With Your Mutt Event at Purina PawsWay.
Kilo is a rescue and was quite anxious and shy at first, as he always is outside the house – we believe a bigger dog must have attacked him in a dog park before we got him and he just was not socialized. However, the pugs were all his size and not threatening so he handled the occasional butt sniff well and hung out on the perimeter with my husband. He did not react at anyone or anything and remained happy enough to eat the occasional treat and have a few cuddles with me.
We only stayed for 15 minutes but it was so fun as pugs are just too cute and sociable.  I am hoping that these little safe outings will gradually give Kilo a more positive feeling and build his confidence. He loves attention and playing with me so I hope some day he finds some new dogs friends he can relax with.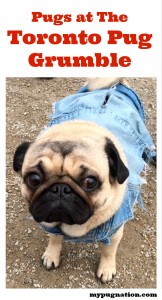 Check out our photos below and visit the Toronto Pug Grumble Facebook page for more.
We'll see you at the December event! Details HERE.