The Best Dog-Friendly Places To Explore In Toronto With Your Pug
With the start of 2017 we thought it would be fun to wrap up 2016 with a round-up of our favorite dog-friendly places to take your pug downtown in our hometown.
We wanted to try out the new Sony Action Cam we borrowed and film Kilo the Pug as he visited his favorite spots in The 6ix. See a product review for the Sony Action Cam here.
Toronto is a pretty inclusive city that has many dog-friendly spots perfect for people and pugs to visit. Whether you're looking to enjoy the outdoors, take a walk, play in the park, shop or have a pug party, these are the best places.
Kilo the Pug's Favorite Dog-Friendly Places
One of our favorite spots on the Toronto Waterfront is Purina PawsWay. They promote the well-being of pets by encouraging responsible pet care. Pet owners or those considering adopting can explore permanent exhibits, attend special events, participate in themed programming, do training workshops and discover the pet world. PawsWay is a Nestlé Purina PetCare initiative and is also the permanent home of the Purina Animal Hall of Fame.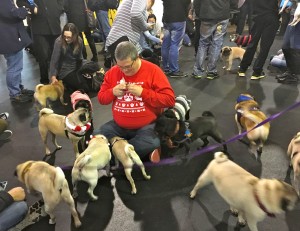 The pet-friendly place is perfect for events like the launch of Talent Hounds' Rescues Rock TV series,  PugALug's Pug Claus and other fundraiser parties, fashion shows like Strut Your Mutt,  classes like agility, doga and puppy school and Rescue Adoption drives.
See photos from PugALug's Pug Claus party
Toronto's Waterfront is the perfect place for a walk with your pug in any weather. Toronto is home to one of the longest urban lakefronts in the world. From the Rouge River to Etobicoke Creek, the 46-kilometre shoreline has attractions ranging from parks, beaches, marinas to concert venues, art galleries, skating rinks and even a BMX park.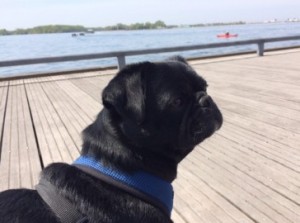 I love to walk with Kilo and see the Tall Ships, grab a coffee at the Starbucks in the Radisson Hotel or Williams Cafe in PawsWay and sit on one of the many lakefront benches or shop at the markets.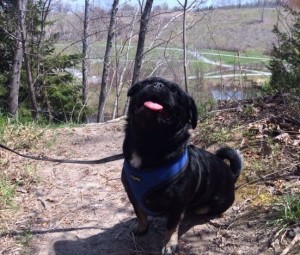 Toronto's Don Valley Evergreen Brick Works has been transforming public landscapes into thriving community spaces with environmental, social and economic benefits. The beautiful space is the perfect landscape enjoying nature, explore the wooded area and shop the farmers or garden markets. It connects with a huge network of ravines and parks to explore.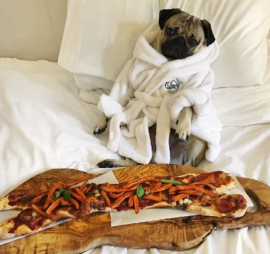 Out of all Toronto's pet-friendly hotels, nothing beats the historic 5-star Fairmont Royal York right in the heart of the city. The Fairmont Royal York is a luxury hotel that often sleeps celebrities visiting Toronto like the King of Pop Culture himself, Doug The Pug.
Dog-Friendly Restaurants
What's better than having an amazing meal or delicious coffee? Being able to enjoy it with your dog.
Tom & Sawyer  -This place serves coffee and cold drinks for humans so you don't have to tie up your best friend on the street, but its real reason d'être is to serve up freshly prepared pet food. We had our meeting on our 2 dog-related films "Music Rescues" and "Pippy Love" there just before Christmas and it was such a great ambiance.
Thor Espresso Bar – bring your dog on the patio or grab a drink and head to the nearby Victoria Memorial Park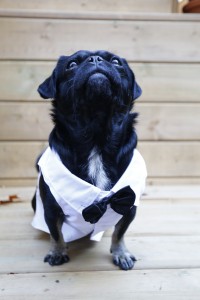 Williams Coffee Pub– located inside Purina PawsWay enjoy sitting indoors on the patio with your dog.
Sassafraz– adored by celebrities, this Yorkville spot has outdoor seating that dogs are welcome to with a bowl of cool water.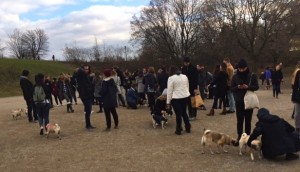 Trinity Bellwoods Park is a large public park located in the downtown west end of Toronto.  It is a favorite place for local residents to walk their dogs. The ravine, known as 'The Dog Bowl', is the designated leash-free area for dogs to play.
We attend the Toronto Pug Grumble hosted by our pal Helmut the Pug at The Dog Bowl. It's the perfect place to host meet-ups for pugs to socialize and play. I have to say it was a bit frosty in December when we tried to film with the Sony Action Cam and so the turnout was low and I had a few technical fails.
See photos from The Toronto Pug Grumble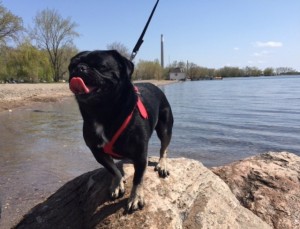 In the warmer month's Cherry Beach's Dog Park is the perfect place for pugs and owners to cool off in the water. It has one of the largest areas of lakefront and beach of any off-leash dog park in the city. In fact, almost the entire West side of Cherry Beach is designated just for dogs. With the beautiful views of the Toronto skyline and of Lake Ontario, it's a scenic experience for everyone. The park is large enough to really tire your pug out and is usually busy with a constant flow of dogs to meet and greet. Even unsociable Kilo loves roaming around with his dog cousins and humans there.
 Toronto Dog Parks and Off-Leash Areas in Toronto from Toronto Dog Stuff
Have You Been To Any of These Places With Your Pug?